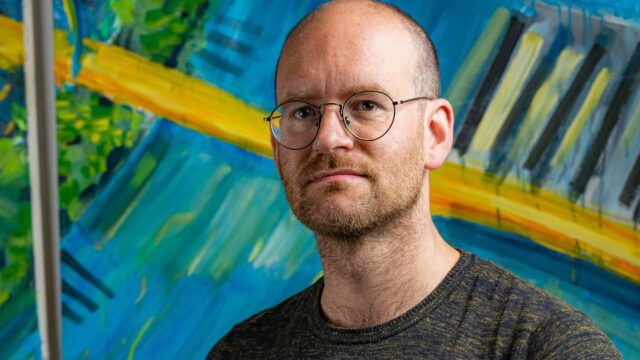 Most people remember through the stories they make of everyday events by retelling them. I remember things in a more unfiltered sequence of events with less context and more atmospheric feeling. My thoughts are more formed by images. Some of them I put in paintings or visual work. My artwork is my way of storytelling.
I paint and draw in a style that is quite primitive, raw, rough and not focused on the accurate representation of reality, but more of atmospheric feeling of space and subject. I work with a diversity of materials Gauche, Tempera, Ink and other materials.
My current subject is Artis (the city Zoo in Amsterdam). Already as a child I came regularly there with my family and for the "Artis Ateliers" (an institute that organizes art courses for children and adults). I went there from my 6th until I was 17 and this had a large impact on me and art work later on in my life. My subjects, most of the time, have their roots in memories and nostalgia of this period.
At the academy of art in Utrecht I picked up this subject again. It is not just about the animals. The shapes of their living environment are also playing an important role. These are often closed spaces with small openings that gives you the opportunity to have a peek into their world. The connection between the architecture and nature are elements that inspire me.
In my recent work the animals are more in the background. I have been focusing on science fiction and space traveling. I get my inspiration from the books i read from writers such as Frank Harberd, Asimov, Arthur C.Clark and Larry Niven. And the recent rise in global interest in space travel such as the antics of Elon Musk, China, India, the Arabic Emirates, EU and USA.
curriculum vitae
Jaap Kamsma (1986)
Lives and works in Amsterdam (NL)
Solo exhibitions
2020 // Jaap Kamsma / Hotel Buiten / Amsterdam
2015 // Jaap Kamsma / Percipi Gallery / Amsterdam
Group exhibitions
2021// New Member Exhibition: UPDATE II / Arti et Amicitiae / Amsterdam
2020 // Salon 2020 / Arti et Amicitiae / Amsterdam
2019 // Open Ateliers Noord (OAN) / Amsterdam
2018 // Spacemakers / Galerie Pouloeuff  / Naarden
2018 // open Arteries Amsterdam noord / mijn atelier / Amsterdam
2017 // Summershow Niewe Dakota / Niewe Dakota / Amsterdam
2017 // Kersentuin / Kersgallery / KunstRai Art Amsterdam/ Amsterdam
2016 // LOCUS FOCUS / Academie galerie / Utrecht
2015 // SHOW WHAT YOU WANT SHOW 2 / Melkweg galerie / Amsterdam
2015 // Royal Club / Academie galerie / Utrecht
2015 // Piet's pop-up Gallery / Dooyewaard Stichting / Blaricum
2015 // Koninklijke Prijs voor Vrije Schilderkunst 2015 / paleis op de dam / Amsterdam
2015 // Zomer reis /Galerie Pouloeuff / Naarden
2014 // Too the Zoo / Kersgallery / Amsterdam
2014 // Exposure / Graduation exhibition / Utrecht
Publications
2021 // Articula 19 // Arti et Amicitiae
2016 // LOCUS FOCUS Academie galerie
2015 // interview on the website of the Galerie Pouloeuff
2015 // by section in the newspaper Gooi en Eemlander
2014 // Graduation exhibition catalog HKU FA TWG 2014/ #16
Nominations
2015 // Royal Award for Modern Painting http://www.paleisamsterdam.nl/en/programme/royal-award/2015
2014 // dooyewaard stipendium/ Blaricum (won!!) http://www.dooyewaardstichting.nl/
Education
2009-2014 // Bachelor Fine Arts / Hogeschool voor de Kunsten / Utrecht (graduate with Honours)
2008-2009 // MBO Graphic designer / Media college Amsterdam (MA)/Amsterdam