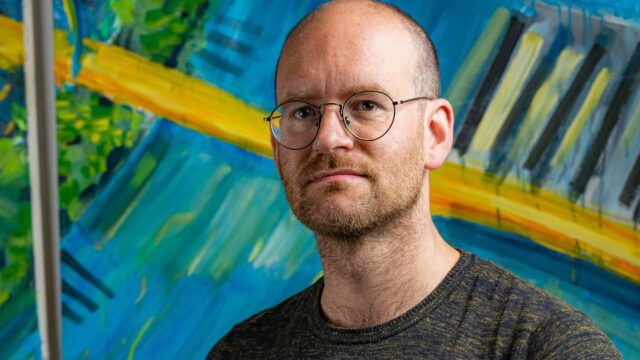 Memory is a strange thing, it shifts and changes within time and retelling.
Most people remember through the stories they make of every day events by retelling them. I remember things in a more unfiltered sequences of events with less context and more atmospheric feeling. My thoughts are more formed by images. Some of them I put in paintings or visual work. My art work is my way of storie telling.
I paint and draw in a style that is quite primitive, raw, rough and not focused on the accurate representation of reality, but more of atmospheric feeling of space and subject. I work with a diversity of materials Gauche, Tempera, Ink and other materials.
My current subject is Artis (the city Zoo in Amsterdam). Already as a child I came regularly there with my family and for the "Artis Ateliers" (an institute that organizes art courses for children and adults). I went there from my 6th until I was 17 and this had a large impact on me and art work later on in my life. My subjects, most of the time, have their roots in memories and nostalgia of this period.
A few years ago my main theme was about architecture. When I was inspired by this, I choose places that had a lot of personal importance to me. Like the central library of Amsterdam or my parental home. I have tried to capture the memories of these places to express how I think about them.
My paintings and drawings are for me a way to communicate some of my feelings and interests. The way I work is more important than the subject itself.
curriculum vitae
Jaap Kamsma (1986)
Lives and works in Amsterdam (NL)
Solo exhibitions
2020 // Jaap Kamsma / Hotel Buiten / Amsterdam
2015 // Jaap Kamsma / Percipi Gallery / Amsterdam
Group exhibitions
2020 // Salon 2020 / Arti et Amicitiae / Amsterdam
2019 // Open Ateliers Noord (OAN) / Amsterdam
2018 // Spacemakers / Galerie Pouloeuff / Naarden
2018 // open Arteries Amsterdam noord / mijn atelier / Amsterdam
2017 // Summershow Niewe Dakota / Niewe Dakota / Amsterdam
2017 // Kersentuin / Gallery Kers / KunstRai Art Amsterdam/ Amsterdam
2016 // LOCUS FOCUS / Academie galerie / Utrecht
2015 // SHOW WHAT YOU WANT SHOW 2 / Melkweg galerie / Amsterdam
2015 // Royal Club / Academie galerie / Utrecht
2015 // Piet's pop-up Gallery / Dooyewaard Stichting / Blaricum
2015 // Koninklijke Prijs voor Vrije Schilderkunst 2015 / paleis op de dam / Amsterdam
2015 // Zomer reis /Galerie Pouloeuff / Naarden
2014 // Too the Zoo / Kers Gallery / Amsterdam
2014 // Exposure / Graduation exhibition / Utrecht
Publications
2016 // LOCUS FOCUS Academie galerie
2015 // interview on the website of the Galerie Pouloeuff
2015 // by section in the newspaper Gooi en Eemlander
2014 // Graduation exhibition catalog HKU FA TWG 2014/ #16
Nominations
2015 // Royal Award for Modern Painting http://www.paleisamsterdam.nl/en/programme/royal-award/2015
2014 // dooyewaard stipendium/ Blaricum (won!!) http://www.dooyewaardstichting.nl/
Education
2009-2014 // Bachelor Fine Arts / Hogeschool voor de Kunsten / Utrecht (graduate with Honours)
2008-2009 // MBO Graphic designer / Media college Amsterdam (MA)/Amsterdam